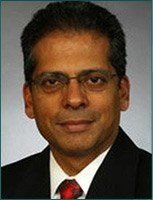 Dr. Anil Pinto
Board Certified in Obstetrics & Gynecology, & Reproductive Endocrinology & Infertility
Dr. Pinto is board certified in Obstetrics and Gynecology. He is also board certified in the subspecialty of Reproductive Endocrinology and Infertility. In addition to his extensive medical training and experience, he completed a comprehensive three-year fellowship in reproductive endocrinology and infertility at Washington University School of Medicine in St. Louis, Missouri.
Dr. Pinto moved to Dallas in July 2002, is affiliated with Baylor University Medical Center, Dallas and Baylor Regional Medical Center, Grapevine. Pinto has a special interest in the treatment of Polycystic Ovarian Syndrome (PCOS), recurrent pregnancy loss, and advanced reproductive technologies, such as IVF. He is actively involved in research and has several publications in peer-reviewed journals. He also lectures and teaches frequently on various topics related to reproductive endocrinology and has several teaching awards to his credit.
Dr. Pinto is a clinical assistant professor of obstetrics and gynecology at University of Texas, Southwestern School of Medicine and is a member of several professional associations. His peers recently selected him as one of the Best Doctors in Dallas in the field of reproductive endocrinonology and infertility. Dr. Pinto is married to Karen Pinto, M.D., a pathologist at Baylor University Medical Center. They live in Dallas with their son and daughter. Dr. Pinto enjoys fly fishing, classical music, and playing the flute.